As a coach, you work with people all day every day. It's all about people.
In today's digital age, more and more people are looking for coaching services online. Prospective clients seek coaches with a proven track record of success, so a website that showcases your services and expertise is crucial. A great coaching website is essential to attract and retain clients.
Your website is your online calling card. It's the first point of contact for potential clients, so it's crucial to make a lasting impression. Your website must effectively introduce yourself, showcase your services, include testimonials and references, and provide clear contact information. It should also be visually appealing and easy to navigate.
We have put together a list of the top coaching WordPress themes that we think are high-quality and verified by good reviews. With the right coaching WordPress theme, you will be well on your way to attracting new clients and growing your business.
Here are our top candidates:
#1 Blossom Coach
Blossom Coach is a coaching WordPress theme designed for coaches, mentors, speakers and therapists to create stunning website without any knowledge of coding.
The theme is designed with features that highlights you and yours services, which will help you improve your followings. To help you welcome new visitors, the homepage layout features a large, full-width slider/banner section. You can use this section for a newsletter, a visual greeting message, sharing photos, and more.
This free version includes one header layout, three blog layouts, and nine homepage sections. Additionally, it provides an easy-to-use typography option that helps you change your website's primary and secondary fonts.
Blossom Coach supports localization, so you can translate the theme into your local language. Plus, the theme is compatible with RTL and LTR languages.
#2 Astra Business Coaching & Consulting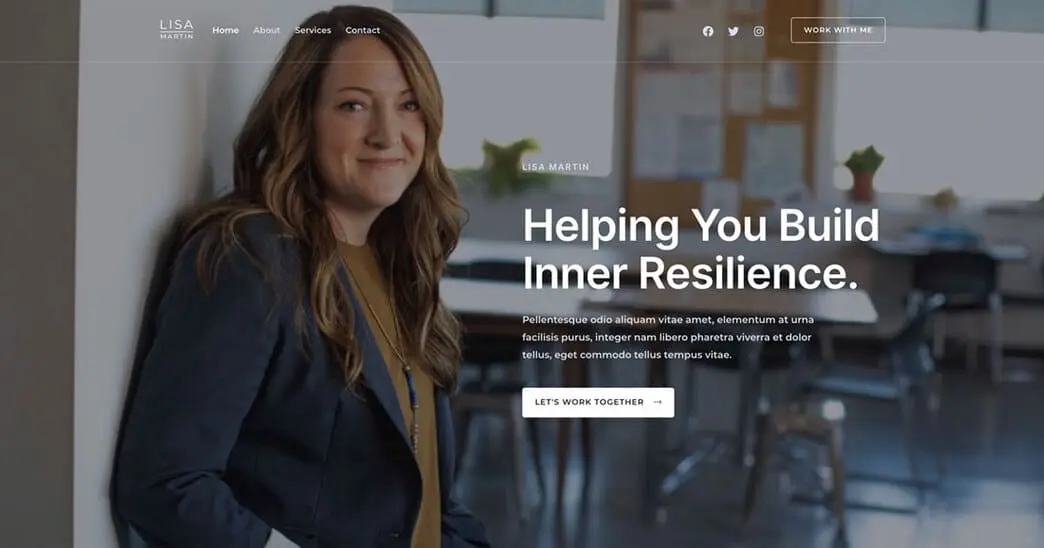 If you are an independent consultant offering business coaching and consulting services, the Astra Business Coaching template is a great option for building a professional-looking website.
This coaching WordPress theme is designed to showcase your business and services. Promote yourself on the significant hero image while including a CTA button to connect with you. Showcase the various coaching and consulting services you offer, as well as the reviews of your happy clients. It's all here!
Key features of the Astra Business Coaching & Consulting
Clean and professional-looking website template, perfect for a coaching and consulting business.
Well-placed CTA buttons encouraging prospective clients to connect with you.
Each of the template pages has been well thought out and designed.
The contact page has Google maps integrated and a fully functional form.
Full compatibility with leading page builders.
Check out the theme and endless opportunities that Astra provides for your online presentation.
#3 Bootstrap Coach
Transform your coaching or mentoring services with Bootstrap Coach, the professional coaching WordPress theme that will elevate your online presence.
Custom sections everywhere
The theme is highly-customizable. The main focus is on the home page, where you can captivate your visitors with stunning visuals and introduce your services in a transparent and informative manner. With a pricing table and newsletter subscription, you can easily call your visitors to action. You can edit every homepage section, including:
Banner section – Capture incoming visitors with compelling infographics.
Info section
About section – Focus on what you can offer and your coaching expertise.
Offer section – Hook people in with a killer deal that will get them interested.
Counter section – Make sure to include data to back up your work and show references.
Benefits section
Teams section – Show off your team members and let everyone know who's on your team.
Testimonial section – Share testimonials from your satisfied customers.
Pricing section
Newsletter section
Blog section – Preview your blog posts.
With the theme's drag-and-drop functionality, you can effortlessly rearrange and customize the key sections of your website.
Personalize your website
Make your website truly yours with personalized color schemes! Choose from a complete set of Google Font options, customize your logo text fonts, and add your own personal touch to the footer.
The level of customization varies depending on whether you opt for the free or premium version of the theme. Don't hesitate to give it a try and check out the possibilities it holds for your coaching WordPress website!
#4 VW Health Coaching
VW Health Coaching is a coaching WordPress theme for personal trainers, health consultants, and other professionals in the health and fitness industry.
The theme features a straightforward design that effectively showcases your services. With a modern layout based on the Bootstrap framework, your website will exude confidence and trustworthiness. It comes with full-screen slider area on the homepage and necessary call-to-action (CTA) buttons.
The theme has been optimized for SEO, enhancing your visibility on Search Engine Result Pages (SERPs). The free version offers a user-friendly interface that simplifies its usage for all people, regardless of their coding skills.
Although the free version allows users to add custom logo and set up a slider, they cannot make other changes. In the premium theme, users can change the color scheme, background, fonts, menu style, header and footer layout, and many other elements.
#5 Coachify
Coachify is a lead-generating coaching WordPress theme built for for coaches, mentors, entrepreneurs, and consultants.
Customization options
From customizable header and footer layouts to pre-designed pages for your services and testimonials, Coachify is designed to meet your business needs. The theme includes several layouts for header, footer, blog page, and single posts. Coachify works flawlessly with popular page builders (Elementor and Gutenberg) to offer flexibility and make editing easier.
Generate Leads for your Coaching Business
The theme has powerful features to help you showcase your expertise, connect with your audience, and convert visitors into clients. The theme integrates seamlessly with CoachPodium plugin, which allows you to create interactive Wheel of Life assessments, enhancing your coaching practice.
Looking to build a site to showcase your expertise, build a strong online presence, and grow your business? Try Coachify today and check out the available starter templates of this coaching WordPress theme!
#6 Coaching Plus
Coaching Plus is a coaching WordPress theme great for health coaches, health instructors, dietitians, and other professionals in the health industry.
You can build the website using multiple page templates, such as a Sales Landing Page, an Instagram Page and a Service Page. Additionally, you can customize your design with confidence and create unique components using the Gutenberg block editor.
The Coaching Plus theme is a fully responsive and speed optimized coaching WordPress theme built on the Genesis Framework. Check out the Demo page to see all details.
Final thoughts
Do not underestimate the importance of your online presentation. Your website is the initial impression for your potential clients. Therefore, it is vital to showcase your services in the best light possible.
By using a high-quality coaching WordPress theme and taking the time to customize it, you can create a website that establishes trust and credibility with potential clients, and that will ultimately help you grow your coaching business.
Here are our top picks for coaching WordPress themes:
1. Blossom Coach – Best for number of positive reviews
2. Astra Business Coaching & Consulting – Best for business coaching and consulting services
3. Bootstrap Coach – Best for customization possibilities
4. VW Health Coaching – Best for health and fitness coaching
5. Coachify – Best for generating coaching leads