A key first step in creating a great website is picking the appropriate WordPress theme. Your site's functionality and design are both impacted by your theme. Making a decision among the thousands of themes available can be difficult.
In this thorough guide, we'll examine the crucial elements to take into account when choosing a WordPress theme to make sure it completely complements the objectives and aesthetics of your website.
Choose WordPress Theme: Catchy Design
Often, a visitor's attention is first caught by an eye-catching design. It may make a lasting impression and establish the tone for your website. Here are some essential design-related considerations:
Aesthetic Appeal
The target demographic and purpose of your website should be reflected in the theme's design. Choose WordPress theme that appeals to your visitors, whether you're building a blog, an e-commerce site, or a corporate page.
Layout Options
Search for themes that provide a number of different layout possibilities. You can experiment with several designs thanks to this flexibility to find the one that best suits your content and objectives.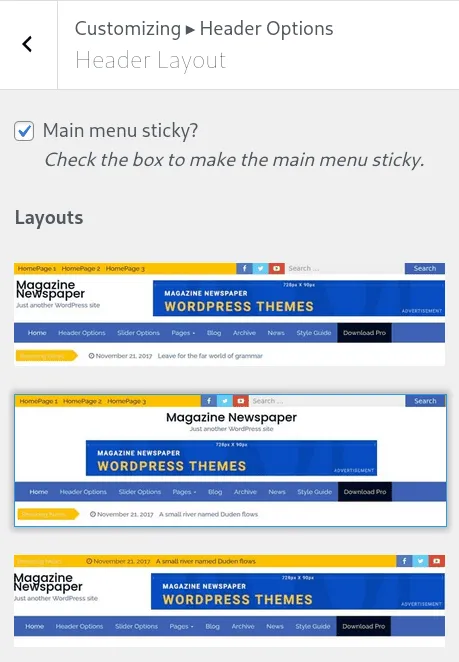 Color Schemes
Make sure the color schemes for the theme may be changed. This makes it possible for you to coordinate the colors of your website with your brand identification or personal tastes.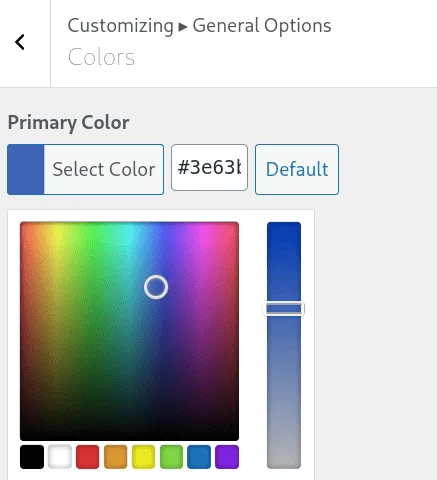 Typography
Pay close attention to the theme's font settings. Fonts that are readable and appealing to the eye are crucial for a positive user experience: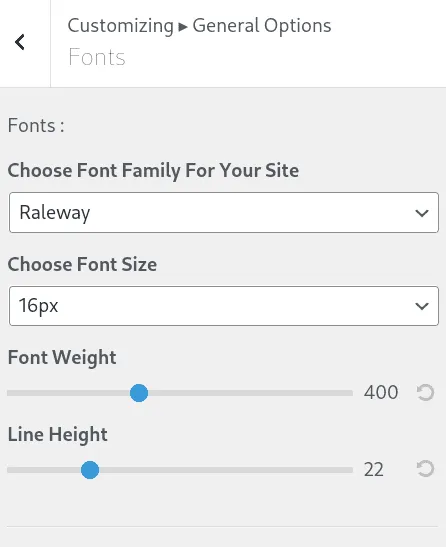 Endless Customization Possibilities
Every website is different thus, your theme should offer plenty of customization possibilities so you may adapt it to your particular requirements. Themes with extensive modification possibilities have the following advantages:
Customization Panels
It is simple to change settings like colors, fonts, and layouts with themes that have user-friendly customization panels without needing any coding experience.
Widgets and Sidebars
A variety of widgets and sidebars are supported by some themes. This lets you give various parts of your site dynamic information and functionality.
Page Templates
The process of building several sorts of pages, such as portfolios, contact pages, and landing pages, is made simpler by themes having many page templates.
Custom CSS
The ability of skilled users to apply custom CSS code might be invaluable for perfecting the design to your precise requirements.
Theme Frequently Updated and Maintained
Your selected theme must keep up with these changes because WordPress itself is always changing. Themes that are constantly maintained and updated provide a number of benefits.
Verify Yourself
Make sure to check the theme's Last updated date in WordPress repository. It's best if it's within the last few months: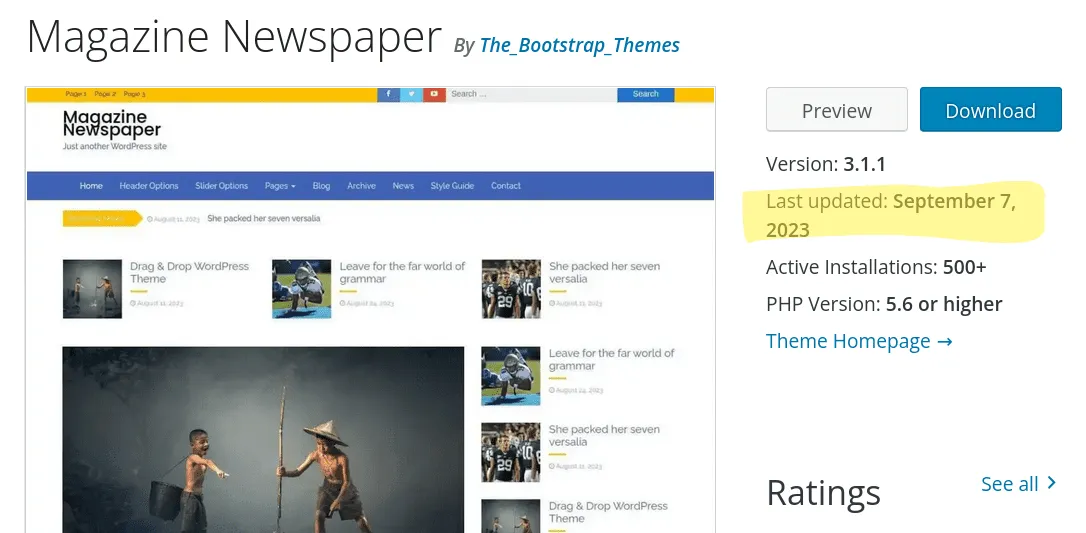 Security
The security of your website and the privacy of your visitors are ensured by updated themes because they are less susceptible to security risks.
Compatibility
By maintaining compatibility with the most recent version of WordPress and widely used plugins through regular updates, compatibility problems are avoided.
Bug Fixes
Bug fixes are frequently included in updates, which enhance the general efficiency and stability of your website.
Support
The responsive customer service that comes with well-maintained themes can be really helpful if you run into problems or require help.
Good User Ratings and Reviews
It's a good idea to look at customer reviews when you choose a WordPress theme. User opinions and evaluations shed light on a theme's advantages and disadvantages:
Theme Repository
Consider user feedback and read reviews when choosing a WordPress theme. Themes with high ratings and favorable comments are typically a better option. Positive feedback from many users is a reliable indicator that the theme will not cause any major issues.
You can check out the user reviews in the Theme Repository:
Simply find the theme by its name, and click on More Info button. A right panel will show up with the star ratings from one to five: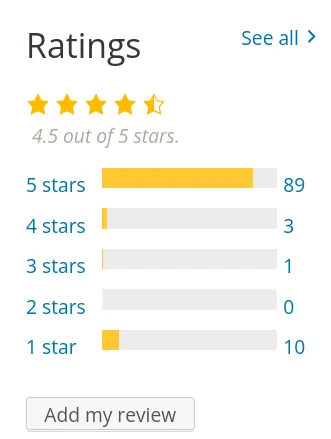 Third-party Marketplaces
Read customer reviews and comments if you're thinking about purchasing premium themes from marketplaces like ThemeForest to get a sense of the theme's quality, support, and general contentment.
Community Feedback
Find WordPress forums and communities where people talk about their experiences with various themes. This can assist you in identifying any problems or difficulties that might not be immediately obvious.
The official support forum automatically exists for every theme in the WordPress Repository. Here, users can ask questions and post issues about the theme. To visit the forum, click on the button View support forum on the theme's page:

Responsive Design on all Devices
A responsive design is necessary in the current digital environment. Your website must display and work properly across many platforms, including PCs, tablets, and mobile phones. Keep the following in mind as you choose WordPress theme's responsiveness:
Mobile-Friendly Design
To check whether the theme satisfies Google's requirements for mobile compatibility, use the Mobile-Friendly Test. In addition to improving user experience, websites also benefit search engine results.
Many websites provide a Demo Theme page. It is possible to check out the theme layout with different screen resolutions. By changing the resolution, you can quickly verify the theme's responsiveness.
Cross-Browser Compatibility
Check to see if the theme functions properly in Chrome, Firefox, Safari, and Edge, among other web browsers. To ensure a seamless user experience, browser compatibility must be consistent.
Compatibility With Popular Plugins
WordPress plugins increase your website's capabilities. It's critical to choose a WordPress theme that works with these tools if you intend to use particular plugins, such as WooCommerce for e-commerce or a forms plugin for contact forms and lead generation:
WooCommerce Compatibility
Make sure the theme works flawlessly with WooCommerce if you have an online store. Some themes include unique functionality and aesthetics that are specifically created for e-commerce.
Forms Plugins Compatibility
Check to see if the theme supports well-known plugins like Contact Form 7 or WPForms if you want forms for interaction with users or data collecting. The smooth integration of forms onto your website is ensured through compatibility.
Compatibility With Popular Page Builders
The content of your website can be designed and organized easily using page builders. Elementor and Gutenberg Blocks are two of the most widely used page builders for WordPress. Take into account the following to ensure compatibility:
Gutenberg Blocks
Make sure the theme has sufficient styling and support for blocks if you intend to use the default WordPress block editor (Gutenberg), which will enable you to produce aesthetically appealing content.
Elementor Compatibility
Select a theme that is entirely compatible with this page builder if you prefer utilizing Elementor for its rich design features. These themes frequently provide pre-made widgets and templates that work well with Elementor.
Active Customer Support is Essential
Even with the most user-friendly themes, you might occasionally run into problems or need help. A theme with responsive customer service could save your life:
Support Channels
Examine the assistance options, including email, live chat, and a dedicated support forum. You may avoid wasting time and frustration with prompt and accessible support.
Response Time
Look for themes with support teams who have a reputation for providing prompt service. A prompt response to your questions or issues helps reduce downtime and maintain the efficiency of your website.
Documentation
Make sure the theme has detailed instructions that walk you through installation, modification, and troubleshooting. When you need to modify your website, clear documentation can be a useful tool.
Ready for Translation into Different Languages
Having a theme that is ready for translation is crucial if your website caters to a global audience or people who speak languages other than English. Think about the following elements when choosing a WordPress theme:
Translation Plugins Compatibility
The process of building a multilingual website is made easier by themes that integrate with translation plugins like WPML or Polylang. By doing this, you can increase the audience for your website.
RTL Support
If your target audience uses right-to-left (RTL) languages such as Arabic or Hebrew, ensure that the theme is RTL compatible. This ensures a smooth reading experience and correct text alignment for RTL scripts.
Wrap It Up
Choose WordPress theme for your website requires careful consideration of various factors, from design aesthetics and customization options to technical compatibility and support.
Your choice of theme significantly influences your website's identity, user experience, and overall success. Take your time to explore and evaluate different themes, keeping in mind your website's specific needs and goals.
By following the guidelines in this guide, you'll be better equipped to select the ideal WordPress theme that aligns with your vision and helps you achieve your online objectives.