Choosing the right WordPress theme for your Ecommerce store is crucial for creating an appealing and user-friendly online shopping experience. With countless options available, it can be overwhelming to find the perfect theme that not only aligns with your brand but also helps generate more sales. That's why we have compiled a list of the best WordPress themes specifically tailored for Ecommerce stores.
The listed WordPress Ecommerce themes offer a free version to get you started, but they also provide premium versions with additional features, layouts, and dedicated support options. This gives you the flexibility to choose the right level of functionality that aligns with your current business needs. Whether you're a small startup or an established online retailer, these themes make it easier for you to find the perfect balance between functionality and affordability.
Here is the list of some of the best WordPress Ecommerce themes:
#1 Storefront
WooCommerce Storefront is a WordPress Ecommerce theme that offers seamless integration with the powerful WooCommerce plugin, making it an excellent choice for building an Ecommerce websites. The template is created and maintained by the core WooCommerce developers, so you can be sure of integration with WooCommerce extensions. Potential drawbacks of Storefront include limited out-of-the-box design options, so meeting the requirements of more complex e-commerce websites can be problematic. Overall, WooCommerce Storefront remains a popular choice due to its reliability and consistent support from the WordPress community.
#2 Astra
Astra is fast and fully customizable WordPress Ecommerce theme with excellent WooCommerce integration. It offers a wide range of customization options, including numerous pre-built niche templates and layout options. Also, Astra is popular for other use-cases, such as business websites, blogs and portfolios. The theme boasts its lightweight code and fast loading times, enhancing the overall user experience. On the downside, some users might find the free version of Astra somewhat limited in terms of available features. Astra remains a top choice for WordPress users seeking a highly customizable and visually appealing Ecommerce solution for their niche.
#3 OceanWP
OceanWP is a highly versatile WordPress Ecommerce theme that offers a multitude of options for customization. The theme is compatible with the most popular page builders such as Elementor, Beaver Builder, Brizy etc. OceanWP is widely used for a range of purposes, including blogs websites and Ecommerce stores, thanks to its seamless integration with WooCommerce. However, some users may find the extensive range of customization options overwhelming, and certain advanced features may require the use of premium extensions. It remains a popular choice for WordPress users seeking a flexible and powerful theme for their online presence.
#4 Zakra
Zakra is a multipurpose WordPress Theme with 80+ Templates. You can choose a template from various categories including Ecommerce, thanks to its seamless integration with WooCommerce plugin. The theme provides lightweight code, fast loading times, and user-friendly interface, making it suitable for beginners. Some WooCommerce options are limited in the free version, and premium tier is required to unlock additional functionalities. Zakra remains a reliable choice for WordPress users seeking an easy-to-use and visually appealing theme for their websites.
#5 Ashe Blog
Ashe Blog is a popular WordPress theme specifically designed for bloggers who prioritize a clean and minimalist aesthetic. It is possible to integrate WooCommerce functionality into Ashe Blog, allowing bloggers to sell products or services through their website. This integration can provide a seamless shopping experience for visitors, while maintaining the clean and minimalist design of the theme. The theme is a solid choice for those seeking an elegant and straightforward theme for their content, without the need for more advanced features or specific design elements.
#6 Online Shop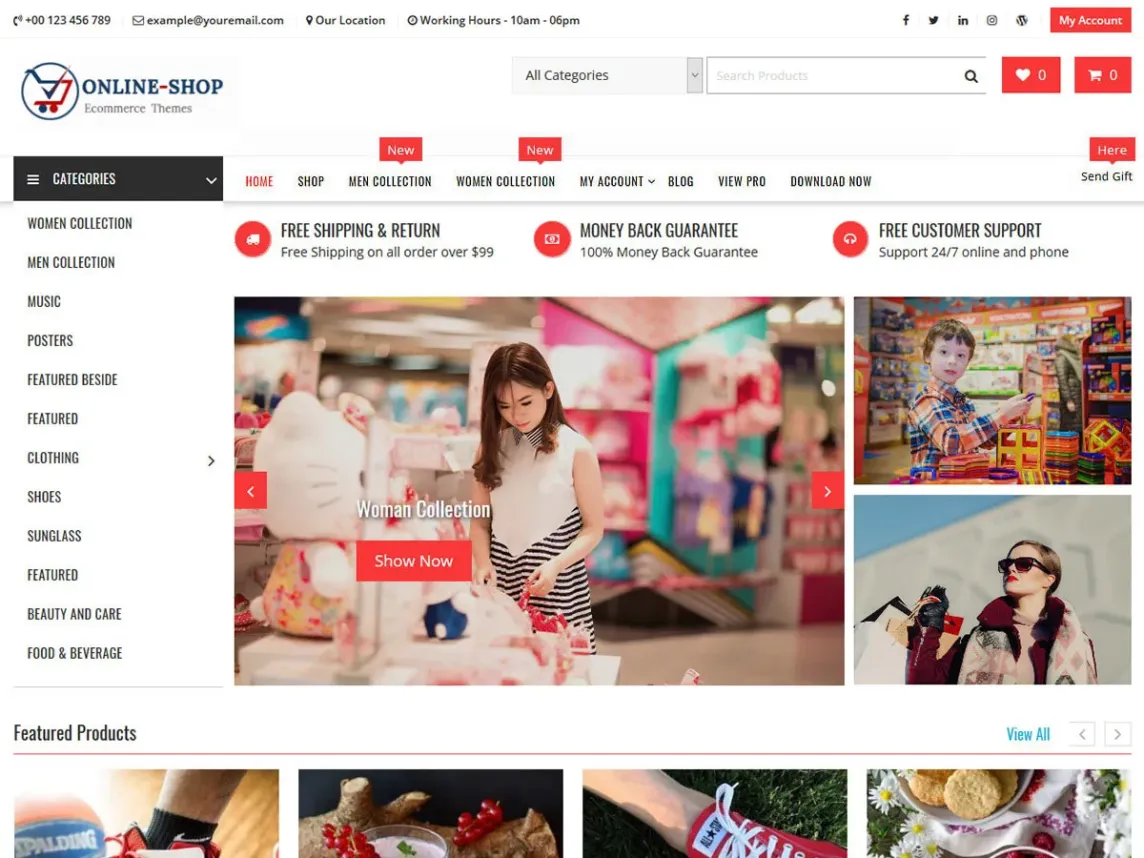 Online Shop is a dynamic and highly customized WordPress Ecommerce theme. It comes with WooCommerce integration. You can quickly and easily setup a Demo website with the import functionality that downloads most of the site structure like menus, images, categories etc. The theme offers versatile design that is better suited for general retail stores. The limited free version can be enhanced by Premium plans starting from 55 USD.
Summary
Every single Ecommerce store has different needs and preferences. That is true from the graphical and functional point of view. A well-designed WordPress Ecommerce theme prevents online store from malfunctioning, so choose your theme carefully and weigh in reviews from other users.
To get started, check out our recommendations above. Here's a complete list of our top picks:
1. Storefront – Best for compatibility with WooCommerce plugin
2. Astra – Best for niche Ecommerce stores
3. OceanWP – Best for overall Ecommerce customizability
4. Zakra – Yet another great Ecommerce theme
5. Ashe Blog – Best for blogs with Ecommerce store integrated
6. Online Shop – Best for pre-built Ecommerce setups